Turn Your Spa Area Into a Tropical Paradise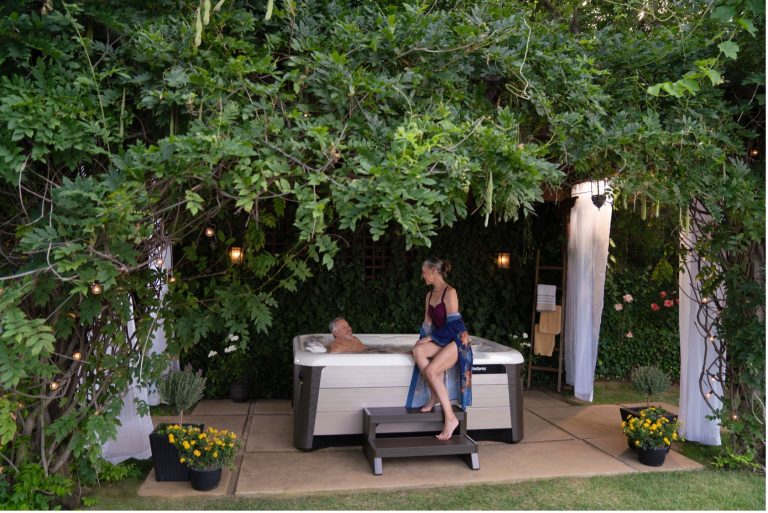 Summer is heating up, and there is no better time to transform your outdoor spa into a complete tropical paradise!
Hot tubs provide more than just a relaxing soak; they can contribute to an all-inclusive spa experience. Make your backyard feel like a remote island by customizing your spa, the decor, and the functionality of your space.
Here are some tips for enhancing your spa environment.
LED Lighting
Whether you are going for a morning dip or an evening soak, LED lighting can add tropical appeal to your outdoor area. Many of our spa selections have multi-color lighting systems to match your vibe. Complement the tub with other patio and walkway lighting to ensure your tropical getaway is well-lit.
Outdoor Furniture
After a swim in the spa, it's nice to dry off in the warm sun. A couple of adjustable lounge chairs are a great solution for versatile outdoor seating solutions. Adding an outdoor couch will keep everyone included when you have guests over. Find some tropical pillows to go along with it to finish your backyard vacation spot.
Tropical Foliage
Nothing screams paradise more than palm trees. Look for spaces where you can include tropical foliage to make your backyard oasis feel even more real. Palms, philodendrons, or alocasia plants have large leaves that resemble a rainforest, which can be perfect for your spa scenery. Smaller shrubs and potted plants are a simple yet effective way to add life and greenery to your space.
Mocktail Recipes
The best way to top off your time of relaxation is with a refreshing drink in your hand. Although alcohol and hot tubs don't mix well, there is a wide variety of tropical mocktails to quench your thirst. Some of the best summer mocktails to serve up are virgin strawberry mango margaritas, mojito mocktails, and whipped frozen lemonades.
Music
After mixing up your drink, you may want to listen to your favorite jams to get you into the vacation mood. If your hot tub doesn't already have a built-in sound system, a pair of weatherproof speakers would be a great addition to your spa. You can listen to your favorite songs and set the mood for your staycation.
Bachmmans Hot Tubs
Are you still in need of a hot tub for your backyard tropical paradise? Here at Bachmmans Pool & Spa, we have a variety of spa models that will complement the style of your space. Choose from an array of features, such as LED lighting and waterproof sound systems, to enhance your vacation experience.
For tips on choosing the right hot tub for you or to get more information about our products, contact our team today.