Enjoy the Beautiful Summer Nights With a Freeflow® Spa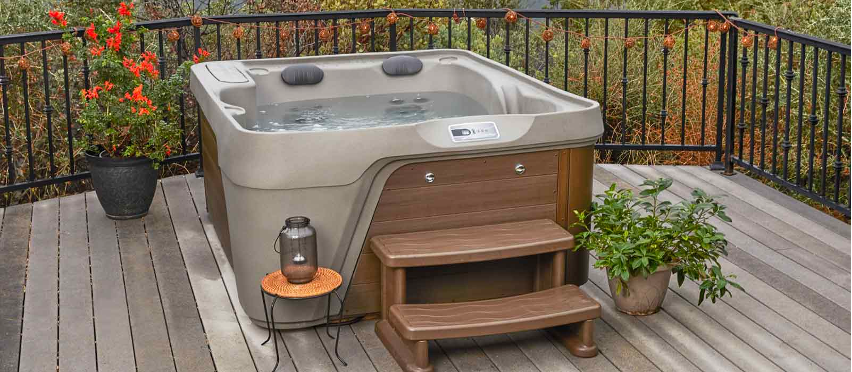 The Freeflow® Spa Collection offers everything you want in your hot tubbing experience. The variety of tubs allows you to select a model that fits your lifestyle and complements your spa area. Freeflow Spas are priced to fit any budget and sized to fit in any space you desire.
Not only are these hot tubs great for your personal use, but they are perfect for bringing the whole family together. Whether you use your spa for family bonding, game nights, or outdoor activity days, you will have many memorable experiences with your loved ones. Here are three Freeflow Spas to make your summer a little more enjoyable.
The Monterey Premier Spa
Let us introduce the largest hot tub within our Freeflow Spa Collection, the Monterey Premier Spa. This tub comfortably seats up to seven people and has plenty of room for family activities or hydro fitness routines. The premier series offers a synthetic wood exterior cabinet, contoured pillows, and interior and exterior LED lighting.
The 22 high-powered jets and illuminated waterfall set a relaxing scene for you and your guests. With the molded-in ice bucket, you have easy access to cold beverages as you lounge in the warm water. This hot tub can be custom-designed with our sleek, modern color combinations to match the theme of your spa environment.
The Excursion Premier Spa
Whether you are unwinding after a long day or spending time with friends, the Excursion Premier Spa is the perfect choice for you. This luxurious and stylish spa seats up to five people and offers extreme comfort. It features a lounge seat and 25 jets for a complete spa experience.
This model is available in six different shell and cabinet color combinations and includes a thermal locking cover for energy efficiency. Save time and money with the plug-n-play technology, which requires zero additional wiring. Simply fill your spa with water, plug it into a standard outlet, and enjoy!
Azure Premier Spa
The Azure Premier Spa is a perfect family tub. It has a deep and spacious design and can seat four people. The kids will love the custom LED lighting and waterfall features. This high-quality tub is made from a durable one-piece hot tub shell, eliminating the need for an internal support frame. The interior is treated with a spray-in foam that insulates every crevice of the shell, creating optimal heat retention. The low-cost and high-quality engineering of this tub will help save money on energy costs and maintenance costs in the future.
Freeflow Spas are designed to fit the needs of every customer. With unique shapes and colors, you can fit your spa anywhere you need.
Explore Our Hot Tubs
Do you want to make this summer one to remember? Check out the full line of our Freeflow Spa Collection and customize one to your needs. If you have questions about our products or services, contact us today.
Bachmann Pools & Spas
19355 West Bluemound Rd.
Brookfield, WI 53045
☎ 262-542-6700
https://bachmanns.com/brookfield-location/
https://www.google.com/maps?cid=1360929093804285609
Bachmann Pools & Spas
2225 S. Stoughton Road
Madison, WI 53716
☎ 608-222-7727
https://bachmanns.com/madison-location/
https://maps.google.com/?cid=17477600880682115150
https://www.facebook.com/Bachmann-Pools-Spas-LLC-340579757341/
https://www.youtube.com/channel/UCdXjfZ9sAA6CBmIzu0dqxvg